JOURNEY into ENLIGHTENMENT
Spiritual Growth and Inner Knowledge / Wisdom
ABN Number:- 98 459 613 414
| | |
| --- | --- |
| Posted on July 8, 2017 at 7:50 AM | |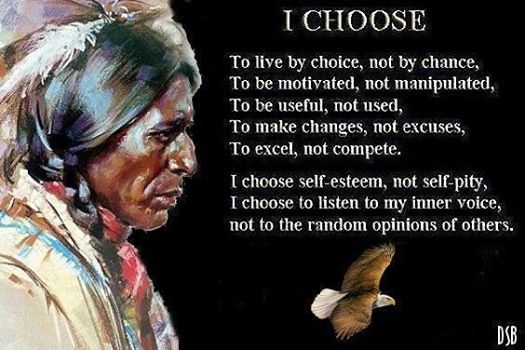 10 Pieces Of Wisdom From Native American Elders Read more at http://www.the-open-mind.com/10-pieces-of-wisdom-from-native-american-elders
Before the Europeans came to America, it is estimated that anywhere from 1.2 million to 12 million Native Americans inhabited the land. The population of the Native Americans was reduced to 250,000, due to mass murder, genocide, imported diseases, slavery and suicide. There is no question about it, these people suffered a great tragedy. One could argue that it is the most devastating thing to ever happen to any population of people in the history of the world. Yet, little to no attention is given to this tragedy. One has to wonder, why? 
Not only were the Native American people killed, but much of their customs, traditions and spirituality were lost along with them. Perhaps this was another reason for the genocide? These people were truly connected and in tune with Mother Earth, often referred to as the Keepers of the Earth. They taught to "walk lightly upon the Earth and live in balance and harmony." Maybe, if more of the Native Americans were alive today the Earth wouldn't be in as much turmoil as it is. We can all benefit from adopting some of the ancient spiritual teachings from the Native American elders into our daily lives.
10 Pieces Of Wisdom & Quotes From Native American Elders 
"The Great Spirit is in all things: he is in the air we breathe. The Great Spirit is our Father, but the Earth is our Mother. She nourishes us; that which we put into the ground she returns to us." –Big Thunder (Bedagi) Wabanaki Algonquin 
"The first piece, which is the most important, is that which comes within the souls of people when they realize their relationship, their oneness with the Universe and all its powers and when they realize that at the center of the Universe dwells the Great Spirit and that this center is really everywhere, it is within each of us." –Black Elk – Oglala Sioux 
"Only when the last tree has died and the last river has been poisoned and the last fish been caught will we realize we cannot eat money." –Cree Indian Proverb 
Go Forward With Courage 
When you are in doubt, be still, and wait; 
When doubt no longer exists for you then go forward with courage. 
So long as mists envelop you, be still; 
Be still until the sunlight pours through and dispels the mists 
-As it surely will. 
Then act with courage. 
-Ponca Chief White Eagle  
Categories: None
/