JOURNEY into ENLIGHTENMENT
Spiritual Growth and Inner Knowledge / Wisdom
ABN Number:- 98 459 613 414
| | |
| --- | --- |
| Posted on May 9, 2015 at 6:35 PM | |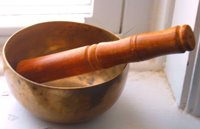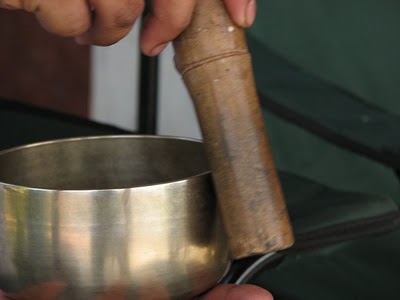 Sound is a vibration that resonates with the soul, which can be felt in every cell of our body. Sound has the power to heal not only on a physical level but also on emotional and spiritual levels.
The Tibetan Singing bowls, which are standing bells, rather than hanging inverted or attached to a handle, that rest on the bottom surface. The sides and rim of singing bowls vibrate to produce deep and soothing sound.
Traditionally, singing bowls were used throughout Asia as part of Bön (Lhasa dialect, the word bon means 'religion' and is the oldest spiritual tradition of Tibet.) and Tantric Buddhist Sadhana. The use of singing bowls in Tibet is the subject of much debate and many stories. Some people say they were used for meditation while others say they were magical tools for healing and transformation of self and of matter.
Chinese Buddhists use the singing bowl to accompany the wooden fish during chanting, striking it when a particular phrase in a sutra is sung. In Japan and Vietnam, singing bowls are similarly used during chanting and may also mark the passage of time or signal a change in activity. Today they are employed worldwide both within and without these spiritual traditions, for meditation, relaxation, health care, personal well-being and religious practice.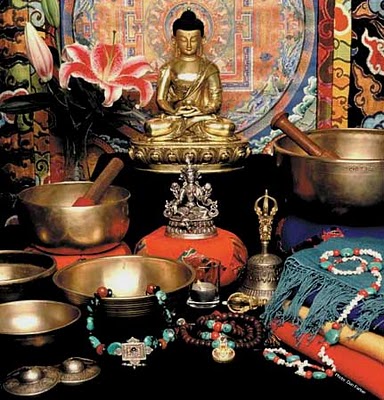 Our Experience with the Tibetan Singing Bowl: The moment I began to use the singing bowl, I knew it had a deeper purpose, you start off by banging the stick on the side of the bowl, then you rub the stick around the bowl in such a way that you take control of the vibration and by rotating this vibration around the bowl with speed and altitude of the friction you can create different frequencies and sound. But what was more interesting is the way your body reacts to the vibrations that are flowing in through your hand.
The feeling of peace descending through you as you churn the bowl and focus on the sound and the control of the vibrations in your hand. It seems so magical its pretty unbelievable what the bowl can do to you. The Old and the New: Traditionally, antique singing bowls were made of Panchaloga (five metals in Sanskrit), a bronze alloy of copper, tin, zinc and iron and other metals. Antiques often include silver, gold and nickel, they produce multiphonic and polyharmonic overtones which are unique to the antique instruments.
The subtle yet complex multiple harmonic frequencies are a special quality of the high quality bronze alloy. Singing bowls are no longer made in the traditional way and is considered a lost art. Antique singing bowls are highly prized and collected worldwide. Their popularity is due to their fine craftsmanship and remarkable sound.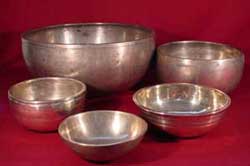 The aging process seems to improve the tone and centuries old antiques produce an incredibly rich and beautiful sound. While the new singing bowls are made from industrial quality metal, mainly copper and are exported widely from Nepal and India. New singing bowls and crystal bowls do not produce the warm and complex tone of fine antiques. They sound like clear and simple bells, without the warm undertones and bright harmonic overtones for which antiques are famous.

Categories: None

0

/